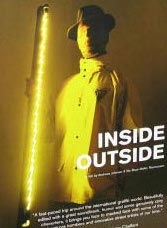 "Inside Outside" is a film about the energy artists get when working in the street. An energy they're missing when exhibiting in galleries and museums, an energy that brings life to their art and to their own lives.
Featured Artists: Zevs, Swoon, KR, Ron English, Earsnot, Os Gemeos, Pigmeus, Adams & Itso
Inside Outside can still be bought from 156media.com.
See Inside Outside after the link.