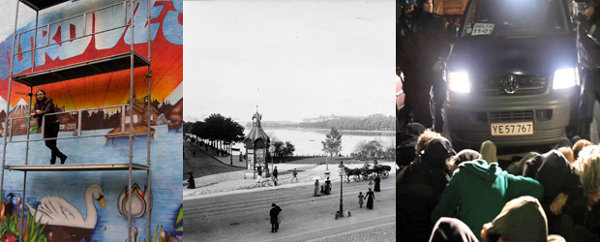 Nørrebro – stories from a neighbourhood
Nørrebro is presented at the Museum of Copenhagen from June 25th to August 29th 2010, when we show the exhibition "Nørrebro – stories from a neighbourhood". The exhibition is curated by young Nørrebroers who through their own productions and dips in the museum's picture archives put words, pictures and sound to the before and now of Nørrebro.
Søren viser mig sin yndlingsgraffiti og fortæller om sit forhold til København og til graffiti.
Filmet og klippet af Lise Rask til Københavns Museum, som en del af Nørrebroprojektet.
Tags change the exhibition
As Nørrebro has changed its appearance through time, so the exhibition will mirror this picture of the ever changing neighbourhood. At different events visitors and street artists are invited to take possession of the Detour city elements using tags, art and comments and thereby change the cityscape. The idea is to fill the white wooden surfaces with street art. When the exhibition opens the historic pictures and the productions of the Nørrebro Project will stand out clearly on the white background. But as the exhibition is gradually taken over by the street art and comments of visitors they will assume another role and change their meaning. Just as the real Nørrebro this city will become noisy and new meanings can be added to the four themes.
The opening is Friday the 25th of June from 15.00.
Til åbningen kan du høre den iranskfødte rapper Babak Vakili give minikoncert med et par af hans numre om Nørrebro. Eftermiddaagen byder også på en uropførsel af digteren Nicolaj Stochholms og musikeren Mads Wæhrens nyeste nørrebroinspirerede Lyd+Litteratur-samarbejde med gæsteoptræden af blandt andre Prins Nitram. Samtidig inviterer Detours deres grafittivenner til at komme og tagge udstillingen og dermed sætte gang i den fortløbende forvandlingsproces, som udstillingen vil gennemgå efterhånden som byens gadekunstnere indtager udstillingsrummets hvide flader med graffiti og street art.
More @ Museum of Copenhagen.