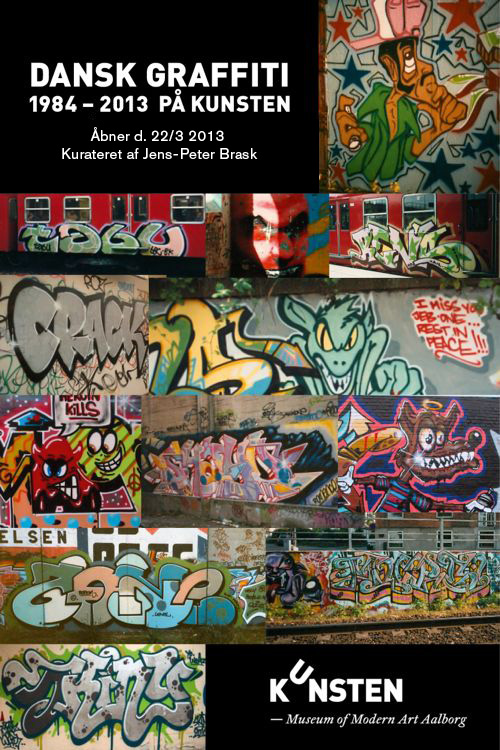 Nordjyske.dk reports that Nordea-fonden is supporting the upcoming "Dansk Graffiti 1984 – 2013" in Aalborg with 1 million DKK in an effort to get more young men interested in art.
Dansk Graffiti 1984 – 2013
23. marts – 26. juni

Den første udstilling, der udelukkende har fokus på graffiti som kunstart, rummer en overflod af værker, som viser den enorme spændvidde, der eksisterer
indenfor graffitikunsten, som vi møder i den moderne storby.
Over 100 graffitikunstnere tager publikum med gennem 30 års dansk graffiti og viser lærreder, vægge, bøger, fotos og sågar Märklintog.
For mange unge er graffiti indgangen til et kunstnerisk, visuelt univers og KUNSTEN tager derfor ud på skoler og i ungdomsklubber, hvor der laves workshops og skabes en legitim platform for kreativ udfoldelse.

Kunst – ikke hærværk
KUNSTEN sætter med udstillingen fokus på graffiti, som er mange unges indgang til den visuelle verden. Men tager samtidig kraftigt afstand fra hærværk og henviser via workshops og på udstillingen til lovlige steder at male graffiti.

Sessioner
Kom og se, når der males graffiti på opstillede vægge i Skulpturparken. Gratis adgang.

5. og 30. april, 15. og 29. maj, 2. og 12. juni.
Alle dage fra kl. 16 undtaget 2. juni kl. 13.30

Udstillingen er støttet af Nordea-fonden.

Kurateret i samarbejde med Jens-Peter Brask.