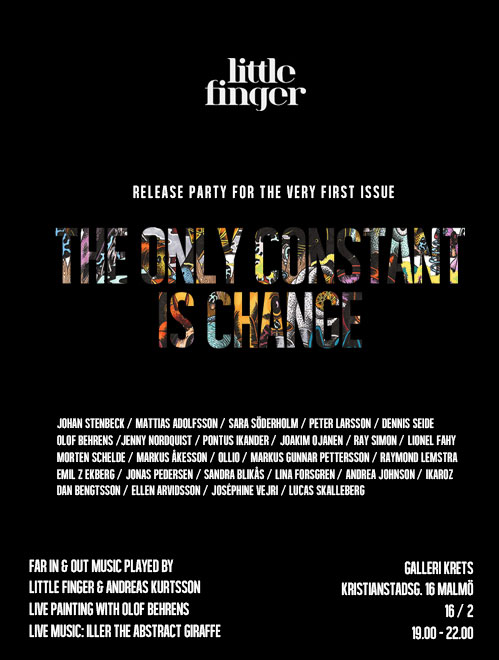 This weekend it´s releaseparty for the new art magazine "Little Finger" that I and many other talented artists and friends are participating in. The release will take place at galleri Krets in Malmø, so stoked about it. Come by to grab a free copy and have some fun.
From Johan Stenbeck.
Releasekalas
16 februari
kl.19-22
Fri entré

För det allra första numret av Little Finger, en ny gratistidning i tabloidformat som presenterar visuell konst, text och nonsens från nordiska konstnärer.
Kvällen bjuder på en form av grupputställning med alla 26 medverkande konstnärer, skeva toner från Andreas Kurtsson och Little Finger bakom skivspelarna, ett liveset med säregna Iller The Abstract Giraffe / Olof Melander samt livemålning med Olof Behrens.

Medverkande konstnärer:
Johan Stenbeck / Mattias Adolfsson / Sara Söderholm
Peter Larsson / Dennis Seide / Olof Behrens / Jenny Nordquist
Pontus Ikander / Joakim Ojanen / Ray Simon / Lionel Fahy
Morten Schelde / Markus Å?kesson / Ollio / Markus Gunnar Pettersson
Raymond Lemstra / Emil Z Ekberg / Jonas Pedersen / Sandra Blikås
Lina Forsgren / Andrea Johnson / Ikaroz / Dan Bengtsson
Ellen Arvidsson / Joséphine Vejrich / Lucas Skalleberg

Liveshow / Iller The Abstract Giraffe – https://soundcloud.com/rymdstationen

Livemåling / Olof Behrens – https://www.facebook.com/behrens.olof

Välkommen!
/ Little Finger och KRETS

Med stöd av Folkuniversitetet.
From Krets.