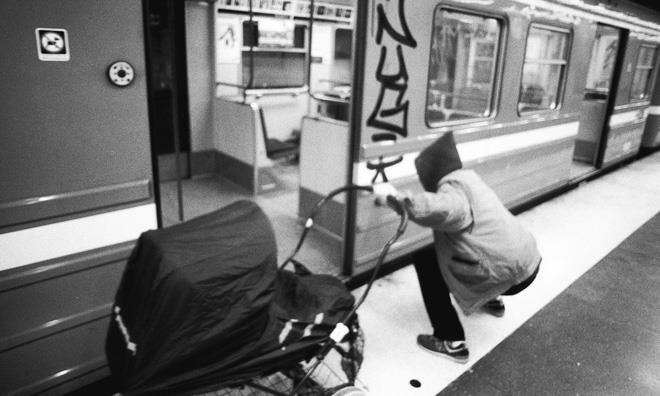 dn.se posted an article about an upcoming documentary about Nug. The movie will have its premiere at the Way out west festival in August.
Nug aktuell i film och på Rönnells antikvariat

"Nug – vandal in motion" är titeln på en kommande dokumentärfilm om konstnären Nug, eller Magnus Gustafsson som han egentligen heter. Filmen får urpremiär på Göteborgsfestivalen Way out west i augusti och är gjord av journalisten och filmaren Lars Berge och Akay, själv gammal graffitimålare som har ett förflutet tillsammans med Nug.

– Vi försöker förstå hur det kunde hända att den mest brutala och kompromisslösa graffitimålaren på Stockholmsscenen blev den mest omtalade konstnären. För Nug har det aldrig varit intressant att ställa ut på galleri. Han vill bara måla tåg, säger Lars Berge, journalist och dokumentärfilmare.

Kanske har konstnären ändrat sig beträffande gallerier, för redan i morgon, lördag, ställer han ut på Rönnells antikvariat i Stockholm. Nug släpper också "I am just trying to be nice", en konstbok i begränsad upplaga med "handbombat" omslag. Nug är mest känd för att 2008 har retat upp kulturminister Lena Adelsohn Liljeroth med det omdebatterade verket "Territorial pissing", en två minuter lång film som visar hur en maskerad person vandaliserar en tunnelbanevagn i Stockholm.