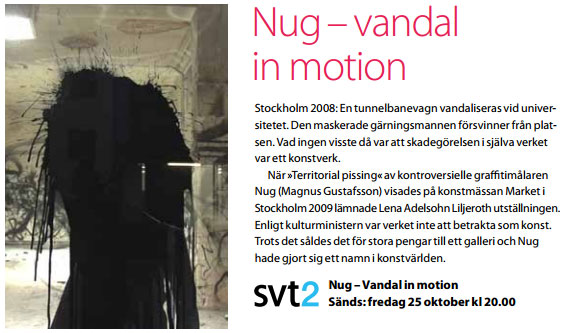 SVT2 have put Nug – Vandal in motion on their fall line-up. It is scheduled to air Friday the 25th of October at 20.00.
Stockholm 2008: En tunnelbanevagn vandaliseras vid universitetet. Den maskerade gärningsmannen försvinner från platsen. Vad ingen visste då var att skadegörelsen i själva verket var ett konstverk. När »Territorial pissing« av kontroversielle graffitimålaren Nug (Magnus gustafsson) visades på konstmässan Market i Stockholm 2009 lämnade Lena Adelsohn Liljeroth utställningen. Enligt kulturministern var verket inte att betrakta som konst. Trots det såldes det för stora pengar till ett galleri och Nug hade gjort sig ett namn i konstvärlden.

Nug – Vandal in motion
Sänds: fredag 25 oktober kl 20.00

[…]Alla datum och sändningstider är med reservation för ändringar.
From page 10 of this .pdf.