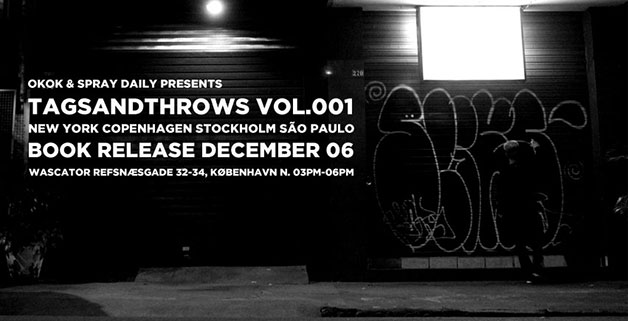 Saturday at 3:00pm – 6:00pm
Wascator
Refsnæsgade 32-34, 2200 København

OKOK and Spraydaily.com presents TAGSANDTHROWS vol.001. A 136 pages photo book with Thomas Karl-Johan Gunnarsson personal photos of tags and throw-ups from his trips in New York, São Paolo, Copenhagen and his home town Stockholm.

Special release price for the book: 100 DK.
There will be beers for the thirsty ones!

More on TagsAndThrows here >>>
www.Instagram.com/TagsAndThrows

More about Spray Daily >>>
www.spraydaily.com
www.instagram.com/spraydaily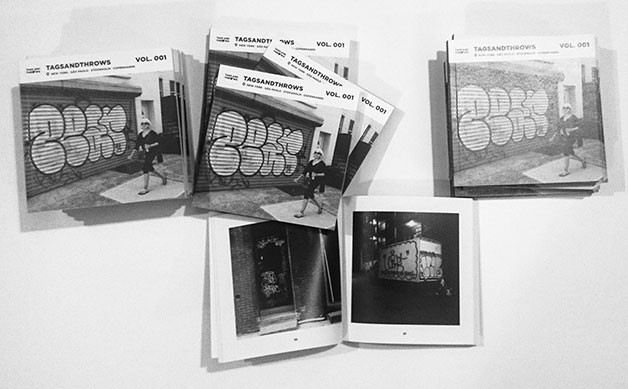 from Facebook.
Update:

In this volume, the first-ever book by TagsAndThrows, we have collected a selection of personal photos by Thomas Karl-Johan Gunnarsson a.k.a. OKOK, the man behind TagsAndThrows. The best hand styles from New York, São Paulo, Stockholm and Copenhagen, documented in black and white, showing not only the styles, but also the atmosphere and street life of those cities. The book spans over 136 pages and features a lot of well-known signatures like False, Klops, Ja, Guns, Katsu, Pear, Tomcat, Easer, Os Gemeos, Sliks, Alone and many more.

Product Details
Format: 150 x 150 mm (Softcover)
Pages: 136
Language: English
Release date: November 2014

ONLINE SHOP (world-wdie shipping):
http://www.spraydaily.com/shop