It has been a long time since we sat down and had the pleasure of talking to the Danish old school legend and abstract graffiti pioneer Avelon31. We are glad to announce that our interview series is still on.
The Kim Matthiesen interview series highlights the stories of people in the graffiti world that we find important. Not because they can make the most high-tech super glossy futuristic piece and have the most Instagram followers. But because they somehow at some point made a difference. A difference that we think and believe is important to recognize and tell the story of. This is to share the knowledge and history of writers, whether they are active or not, to the future generations. This is not a focus series on the most famous and upcoming graff writers, this is a way of telling a story and focusing on something we find important! Because it is important!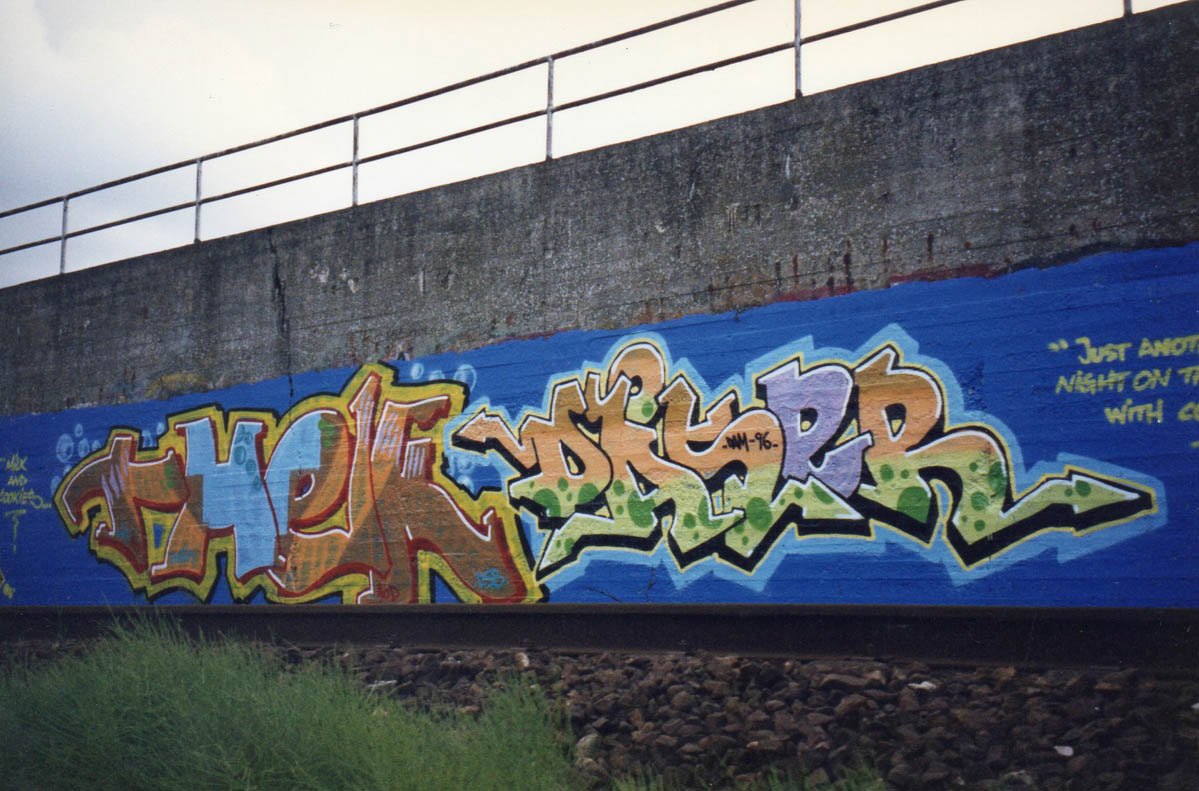 Dåser is a name that can not be avoided, in the context of Danish Graffiti History. Dåser is one of the only writers in Denmark, that actually uses one of the Danish unique letters in his name, Å. If you are from what could be called the second generation of graffiti writers growing up in Jutland, Denmark during the 90's the name Dåser is something you know for sure. It was a name that was everywhere, some of the old pieces from that time can still be seen out there somewhere in Denmark and even in Basel along the tracksides under tunnels and bridges. Dåser stood for good quality pieces by the tracks and on the trains.
Then all of a sudden in 2012 he was back! The name Dåser popped up on the internet in the form of a blog showing only Dåser pieces. A lot of them! Never before seen photos. What did this mean? A comeback? Then it stopped with a small statement. That could mean everything.
In 2013 I accidentally met the man behind the name Dåser. He told me not to expect a comeback, he just felt like showing his work from back then. That inspired the idea for this interview, to hear the story from himself in his own words.
It is with great pleasure I present to you the interview with Dåser One from the Dam Crew.
ARL: When did you start painting and why?
I started painting in the eighties, and was quite active from 1994 until 2000. I lived in Århus and later in Odense at the time. Painting bridges along the railway tracks was my great passion.
ARL: For many years you where out of the picture and not visible at all, and then all of a sudden you came back? Why? What triggered your comeback?
There is no comeback! I am no longer a writer. The last few years I have done a couple of pieces, just having fun.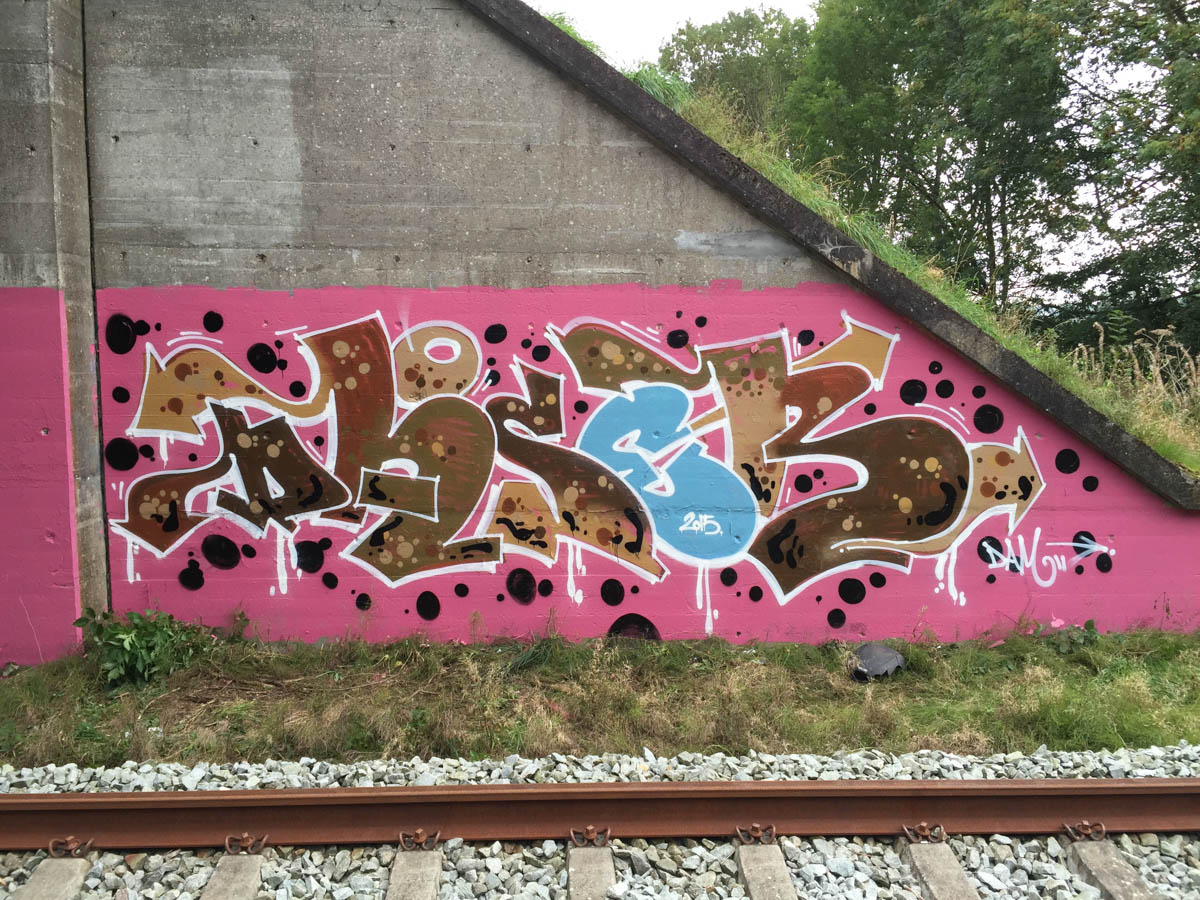 ARL: In your real active period of the Dam crew You, Thek, and Swet was All over! Especially Jutland, Århus? Tell us about the crew?
Swet and I shared a apartment in downtown Århus. There where many writers visiting, lot of roller paint, quick cans in the freezer and Faxe kondi. Thek was a regular guest and it was only naturally that he joined the crew. Your main goal was color pieces at the Jutland tracksides. Occasionally we would hit a train. During the winter we did silvers and destroyed noise fences with scrap cans.

ARL: The name Dåser is not the usual choice of a graffiti writers, from your generation it always seem like it needed to sound american or streetwise in a way? So why did you choose a danish word as your name?
I liked the letters and was pretty sure no one else used that name. At the time I started I didn't have any contacts in the graffiti community and i guess it was unnecessary to have a streetwise name if your main focus is the Jutland trackside.
ARL: Tell how you got in to graffiti and why? What is the classic Stylewars? Beat street and all that? Or did you just have a passion to break the law??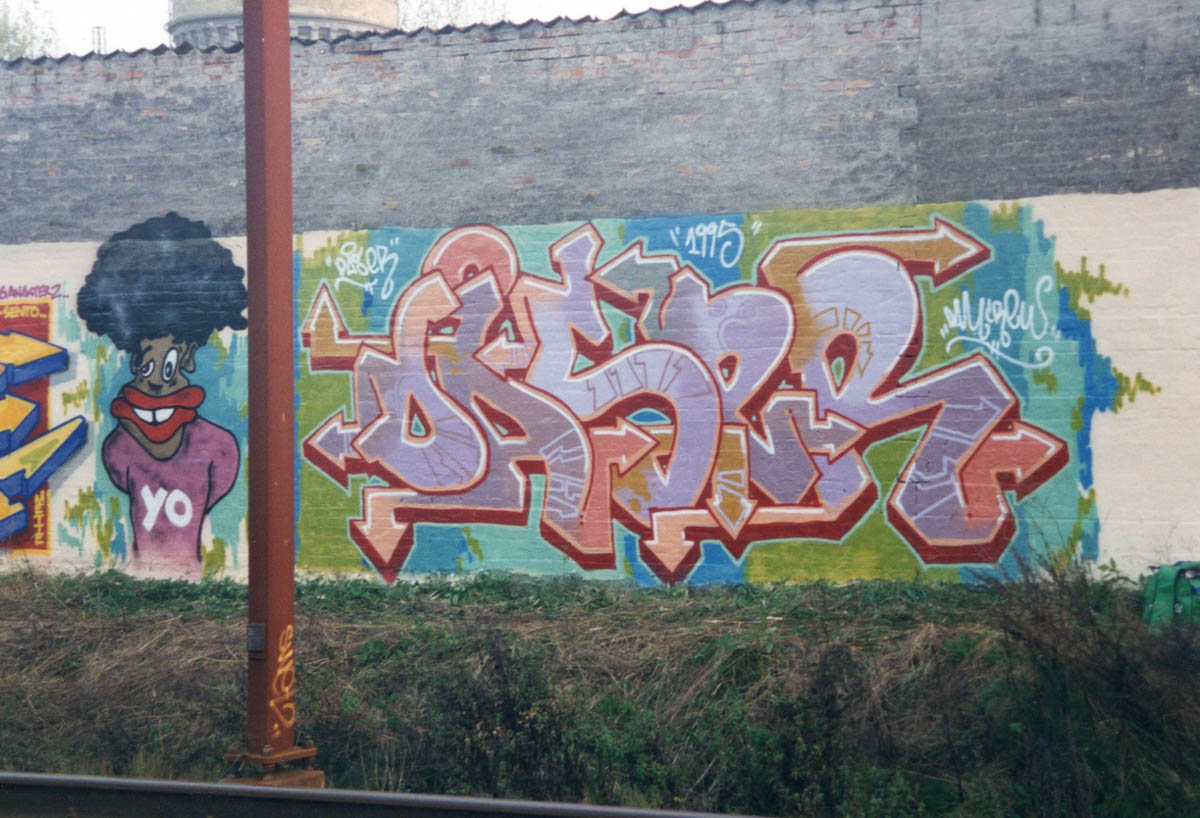 It was kinda the classic pattern, electric boogie and break was the big thing. It introduced me to hip hop and I started drawing. But the real revelation for me was when I got the book "Dansk Wildstyle Graffiti" for Christmas. Later at the summer holidays there was a Aalborg graffiticamp and I meet up with other writers. Here I painted with a spraycan for the first time. I did a piece together with a guy who later went on to write Swet.
ARL: Tell us about the beginning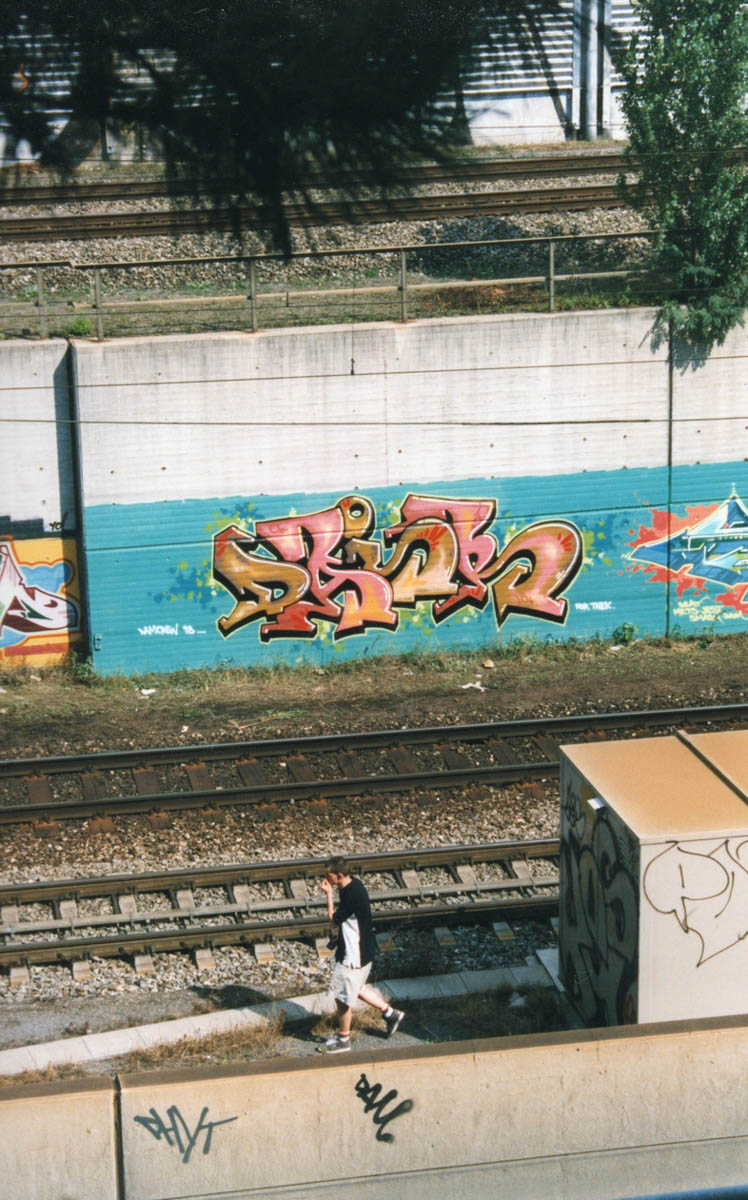 In the late eighties I painted local stuff in the small village I lived in. Small jobs on woodboards for the youth club and got a tunnel for local hall of fame. Around 1989 I got more into skateboarding and didn't paint the next couple of years. But somehow I felt that I had closed the graffiti chapter to early. I still had unfulfilled dreams. So in 1994 I started again, this time on a different approach. I was painting trackside and felt very inspired by the brown rocks and concrete bridges. Having just moved to Århus, it was a brand new playground searching the tracks and finding new spots. Swet and I rediscovered contact and we found a common course.
ARL: It seemed like you just stopped writing all of a sudden? Why? Was that the case? What made you stop
I found myself being investigated by the police and decided to lay low for a while. The break made me consider if the risk of getting a conviction was worth it all. I could not see myself continue just painting legal stuff. To this day I am still happy that I made the decision not to become a half-hearted hall of fame writer. We have seen to many examples of writers dilute there own brand.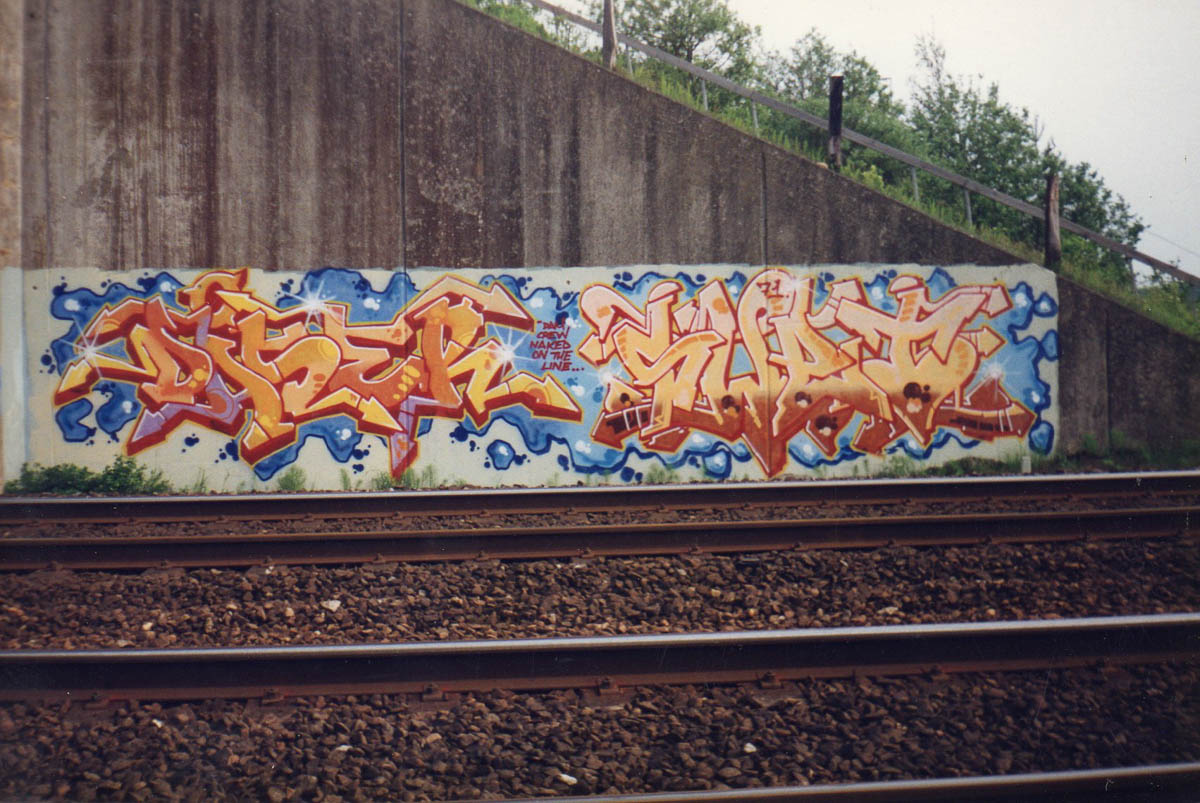 In my opinion graffiti belongs and looks more authentic on trains and tracksides. The element of getting up had a huge influence on me. I felt that I was wasting paint every time I did a hall of fame. You could be sure your piece was gone after fourteen days and you got a boring picture. I liked the roughness of a piece done in the night, fill in might be poor and you forgot a shadow. It is a great feeling, seeing the result in daylight the next day and getting nice pictures on a fresh location.
ARL: Why did you, out of the blue have the need to show your pieces on the tumblr?
I was hoping that showing what i did in the nineties might inspire other to get out on the train tracks.
ARL: Are you afraid of being forgotten?
I have never been very much into to the history myself. So if people forget my stuff it is fine. You are never better than your last piece.
It was a great and important time in my life. I still enjoy watching lots of graffiti. And still find the time to draw some sketches.
ARL: You have done so much graffiti, why was it important for you to paint, back then?
It was about getting up, and have that special feeling after a mission. Unfortunately you have to do crime in order to get up. I never had the mindset of a lawbreaker but somehow I overcame that to chase my dreams of trackside fame.
ARL: Tell us about the Vejle Bridge action.
One of the first missions me and Swet did was the Vejle bridge in 1995. We did both sides but was not satisfied with the result. So in 1997 we gave it another go. The first night we stood next to the wall about to start roller painting, when two fishermen parked their folding chairs just down by the sea. We waited but the fishers where more patient than us. So we left and went back the next night where we finished the job. We had been saving that red roller paint for a special occasion and when we saw it in daylight it appeared pretty nice along the leaves and green grass.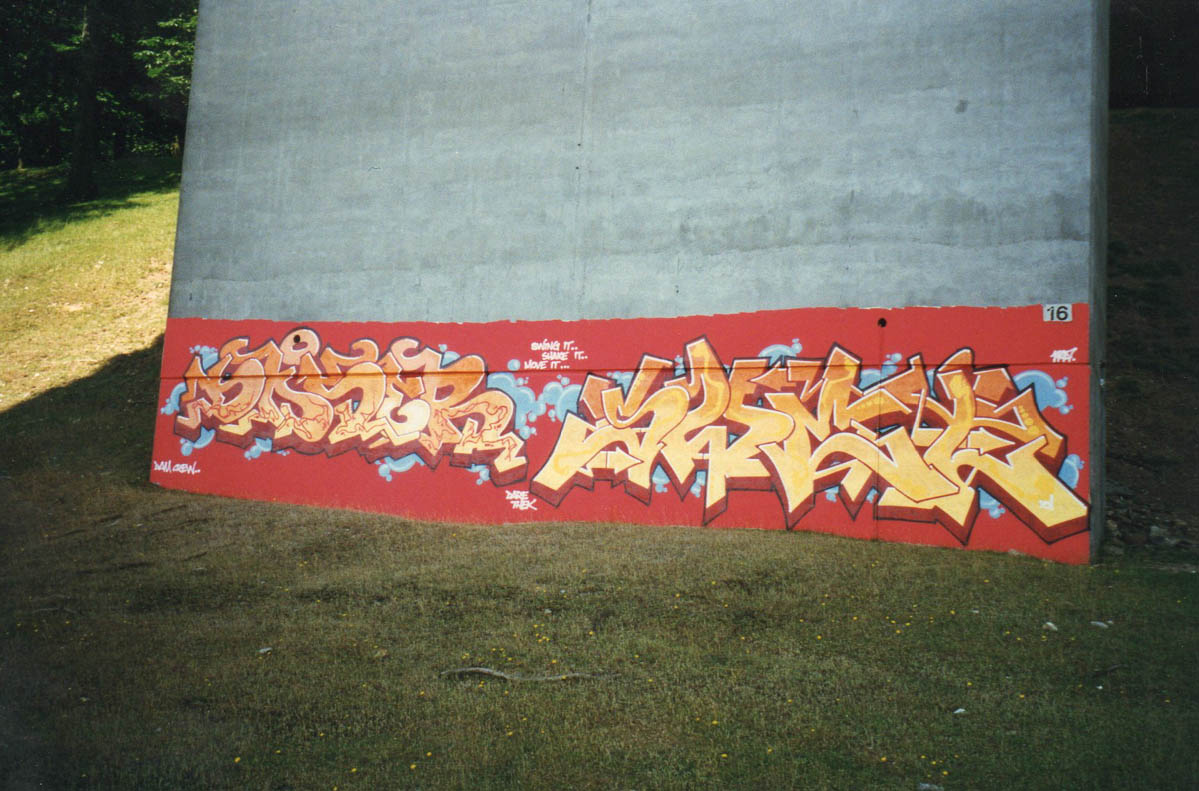 ARL: Some persons from the younger generation painted the Vejle spot after it got buffed in 2010. Made dedications same color schemes, with pink roller paint, and so on in respect of the production you did in 1997? What does that mean to you? How do you feel about it? That your work by some is considered important history?
I still wonder if they knew "Swing it, shake it, move it" is the chorus of a Spice Girl song! Of course I was happy to see the new version of the wall. But at the time we did that, it was just another picture in the book.
ARL: Your work as a graffiti writer have clearly been seen up to by many, younger writers, and many consider you as a legend. What does that mean to you?
If younger writers can get some inspiration it is a nice thing. I tried to be honest to the cornerstones of graffiti and maybe it was recognizable to some writers. But there was no secret recipe, just hard work and dedication.
ARL: What did/do you want to achieve painting?
Primarily it was to prove to myself that I could reach my own goals.
ARL: Did you want to become famous? And why?
I wanted to get my name up, not my face. Getting up is one of the pillars of graffiti.
ARL: It seems like a lot of older writers from the first generation starts painting again in their 40's like yourself. I find that weird and interesting. Why do you think that is What made you start again after so many years?
The grown up rat race is a tough one. No wonder folks need to get out and breath some fumes. Never stop pursuing your childhood dreams.
Don't expect anything! My next piece could be my last. I have very low ambitions and if I don't have fun I stay in my couch.
ARL: You could say that graffiti haven't developed since the 80's on the New York subway. It is still the same letter structures the same, bubble background that is repeated again and again and again. Why do you think that is?
For me it was the only way I ever wanted my graffiti to look. There is no reason to change a winning formula.
ARL: What is the most positive about being out of the game for so long? And then come back?
I don't have paint stains on my clothes! I have had other interests, and tried to put in the same passion as I learned in graffiti.
ARL: Any favorite writers? Now and then?
I am proud to have been painting alongside two of the most innovative and stylish writers, Dare and Swet. Lately I have been impressed by Swedish guys like Dart and Close.
ARL: Anything you want to add, shout outs? Good advice for the younger?
For me graffiti has been very much about fulfilling the dreams I had as a kid. When I was 13-14 years and saw the trackside pieces in Aalborg by a guy like Batch, I could only imagine the joy he felt after completing a mission. In the nineties I spent a lot of time chasing that feeling.