Published: December 7, 2014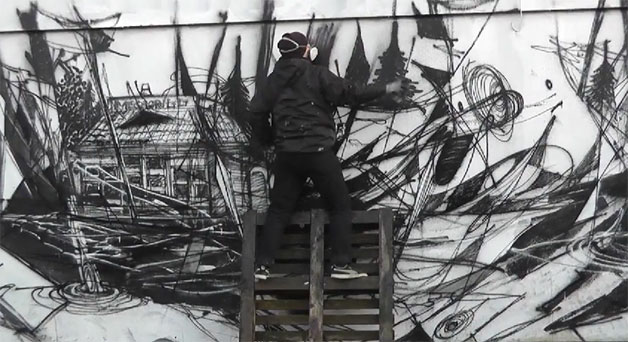 via Anders Reventlov.
Published: December 5, 2014

The unannounced exhibition "84" by CMP ONE in celebration of his 30th anniversary as an artist.
The project is presented by Swet, filmed and edited by CoverGanda with music by DJ Static.

Visit CMP ONE's Facebook-page here:
https://www.facebook.com/CMPONE

Published: November 21, 2014


Tomorrow.

Street Art week in Enköping – Two of the world's leading street artists including the pioneer in the Swedish street art and graffiti scene comes to Enköping . Bates- Inkie – Byhr opens their show on the 22nd of November at Enköpings Art Museum. This is a unique collaboration between urban artroom, the city of Enköping and Enköpings art museum. During the week there will be several activities like live painings, graffiti school for kids, lectures and on Saturday 22nd of November the opening of the exhibition. For more information around the program look here:
http://www.enkoping.se/uppleva

Published: September 29, 2014

WTWDID is an artist collective based in Malmö Sweden. They work creating both indoors and outdoors.
Curator: Oyuki Matsumoto for STPLN-Stapelbädden / Magnus Johansson & Rasmus Alkestrand for Little Finger
Film:Firas Mukarker
Editing: César A. Ortiz
Hosted by: STPLN- Stapelbädden
Music by: Physical Graffitti (Tab & Anitek) / CC BY-NC-SA 3.0

Published: September 27, 2014

BATES is holding his New York / Malmö 'State of Mind' Exhibition at Still Kicking gallery (Vintergatan 17, Malmö).

Come by for good art and good music by DJ Pace and DJ B-Man.

The details:

BATES – New York / Malmö "State of mind"
Exhibition, Vernissage 27 September
from 12-16 O'clock at:

Still Kicking Gallery
Vintergatan 17
Malmö, Sweden

5 min from Malmö Central Station!

Published: July 18, 2014

After an 8 month tour to the Americas, Ola Kalnins returns to his home-land Sweden to paint his so-far biggest mural (and his first sky-lift experience) with the help and assistance of Sao Paulo's finest artist and pixador MLOK. The wall is situated in the hear of the old Malmö, Gamla Väster; and it was done as part of Artscape Graffiti and Street Art Festival.
The biggest influence for this wall came from Ola's love to music and his neighborhood. He describes the wall as "music for the eyes" and a "jungle of cultures".

Photos of the process here: cargocollective.com/Fberg/Ola-Kalnins-Ar­tscape-Festival

Soundtrack: Quantic Life In the Rain

Published: July 17, 2014

Tomorrow Today
Le Fix, Kronprinsensgade 9b, 1114 København
We are really honored to show you a true danish graffiti Legend at Le-fix Gallery – ROMANCE was among the very first to show Denmark how to control a spray can and has been the writer behind classic master pieces around Denmark from the beging of the mid 80´s.
ROMANCE was the first danish graffiti writer to get into the Royal Danish Academy of Art // This Show has been Currated by Jens-Peter Brask – thanks for making it happen

From facebook.