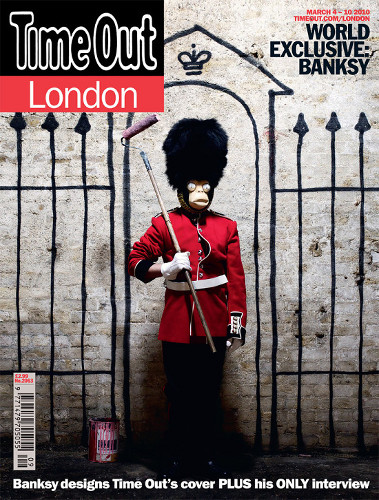 I wasn't planning on posting anymore banksy stuff, but the two recent interview's with British magazine's have been quiet good.
From Time Out London
You are accused by the graffiti community of selling them out? How do you plead?
'It's hard to know what "selling out" means – these days you can make more money producing a run of anti-McDonald's posters than you can make designing actual posters for McDonald's.

'I tell myself I use art to promote dissent, but maybe I am just using dissent to promote my art. I plead not guilty to selling out. But I plead it from a bigger house than I used to live in.'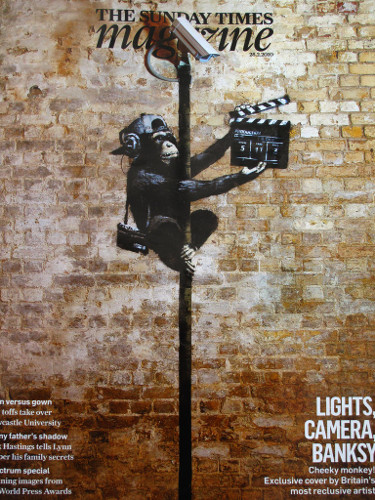 From The Sunday Times
"I still paint graffiti because I genuinely think the side of a canal is a more interesting place to have art than a museum," he counters. "And the fact of the matter is, if you exhibit in a gallery you have to compete against Rembrandt, but if you paint down an alley you only have to compete against a dustbin. I guess it's the art equivalent of hanging around with fat people to make yourself look thin."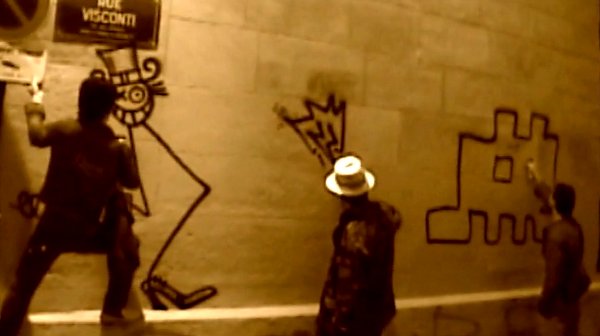 Exit Through the Gift Shop had it's premiere last night in Utah at the Sundance film festival. The first reviews of the Banksy directed movie has been published. LA Times's review is a long and detailed account of the movie and premiere event.
This however is a much more compact quote from reuters.
We saw the Banksy movie Sunday night. It's interesting. Essentially, it traces the artistic zeal of Frenchman Thierry Guetta, who lives in Los Angeles and became obsessed with videotaping street art, which led him to Banksy. Thierry wanted to make a documentary about street art, but couldn't finish it. In stepped Banksy to help him, and what emerges is a documentary that questions what is art and who decides its merit.

The movie is both funny challenging and, of course, Banksy never really appears. He is only in hoodie, dark silhouette, and his voice is altered. …. sorry, Sundancers. You can see his grafitti art, but you can't see him.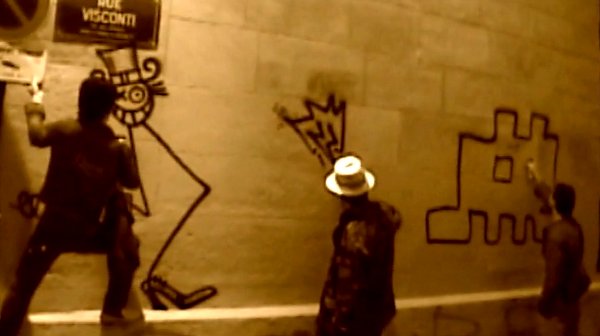 It turns out that the rumors around the Internet were true. Banksy is in Utah, at the Sundance film festival, to promote his new movie.
Exit Through The Gift Shop – A Banksy Film
– the world's first street art disaster movie
the story of how an eccentric French shop keeper turned documentary maker attempted to locate and befriend Banksy, only to have the artist turn the camera back on him.
The movie is due to open in British cinemas on the 5th of March.
banksyfilm.com
BBC
via nuart.no
Update:
The danish newspaper politiken have an article about the movie up on their site.