Stockholm backjump in 360° video.
Loop colors in 360 train action!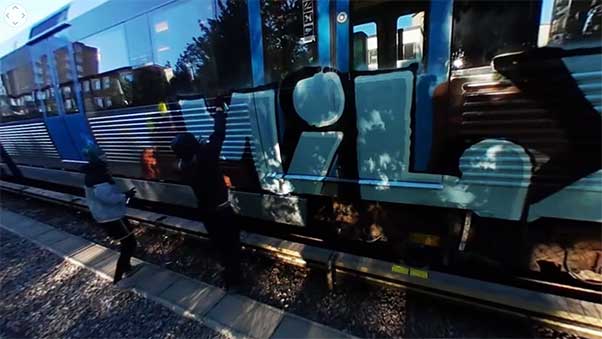 Julie from TUM crew painting a clean wall in Malmö..
In this episode of MONOCHROME we feature Copenhagen graffiti writer Sabe.
Fourth chapter of our very slow moving HECTICMUNDO GRAF series.
This time featuring AZIT and CURSE bored out of their minds, so they had to go find something to do, and it ended up with this video.
COPENHAGEN RELEASE

Join us on Saturday june 10th for the book release of SABE – Still Around at LE FIX in Copenhagen!

June 10, 16:00 – 19:00
Le Fix, Kronprinsensgade 9, Copenhagen

SABE – Still Around, is our most ambitious book project so far, 260 pages, over 500 photos with wild style, throw-ups, trains, tags by the legendary style writer SABE.

The book is now available for presale, all books sold through the presale will be signed by SABE, check the preview and order your copy here: https://www.spraydaily.com/shop