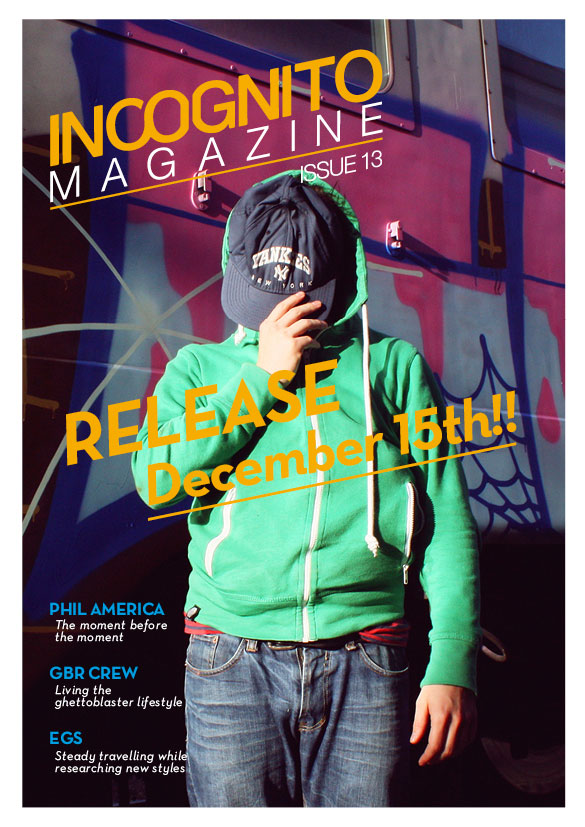 Update: Buy and previews is at phloated store.
INCOGNITO MAGAZINE #13 – RELEASE 15th OF DECEMBER

Time flies, and we are here once again bringing you Incognito volume 13.
In this day and age when Internet graff is the main forum for viewing graff flix, you often hear people say that there is no need for magazines since everything has already been shown online.
– Well, if you think that every fresh nugget was already published online, you need to think again!

In Incognito #13 we have some pretty jam-packed sections of bombing, walls and trains featuring new school burners, drippy silver tags and unpublished burners on the rolling steel among much more.
In the interview section have the Finnish style legend – EGS, who is showing a big bunch of his recent heaters. Then, we have noticed the name GBR popping up in our face with classy train pieces for a while now and thought it was time to get some words and images from the boys. As a bonus we also have the American photographer Phil America, who did a special photo essay for incognito.
Summing it up, we think it would have been quite impossible to squeeze in more eye candy than this on these 48 pages and hope you will agree with that!
From incognitomagazine.

– Montana Sketch battle, deltag og vind!
– Et kæmpe interview med den danske graffiti-legende Sabe, krydret med en masse billeder du ikke har set før
– magasinet præsenteret et stort og lækkert graffiti galleri, men masser af nyt shit fra hele landet – og endda lidt ude fra den store verden. whoop!

Vi vedlægger det i alle ordrer og kan naturligvis hentes i vores butikker når det udkommer!
From facebook.
Okay! Now that the summer is over it's time to put together the second issue of the magazine Brap brap! Just like in the first number the focus is going to be on Stockholm, but will also include pictures from the rest of the world and will even have a photo-special with a young and very active writer from Copenhagen.
Send your pictures to Brap-brap@hotmail.com!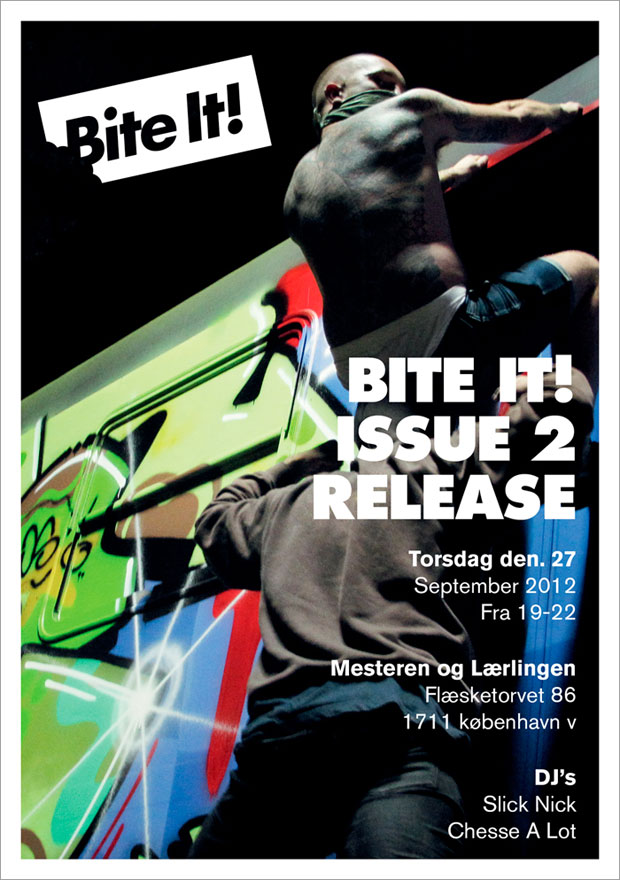 Torsdag den 27. September udkommer graffiti magasinet Bite It! issue 2.
Derfor holder vi release på Mesteren og Lærlingen.

Issue 2 på 104 sider indeholder check up med ACIE, Interview med TRICK,
check up med EPV, On the road med VAN, seje skitser + meget mere dope shit.

——————————————————————————————
· På selve dagen — Køb magasinet for kun 50,- kr

· Køb Issue 1 til en super god pris

· Gratis stickers

· Gratis øl til de hurtige

· DJ's: Slick Nick & Cheese A Lot

——————————————————————————————

Kig forbi — Det bliver off the hook.

Facebook:
http://www.facebook.com/biteitmag

Facebook event:
http://www.facebook.com/events/358872077532179/
The magazine can be ordered @ runforcover.dk.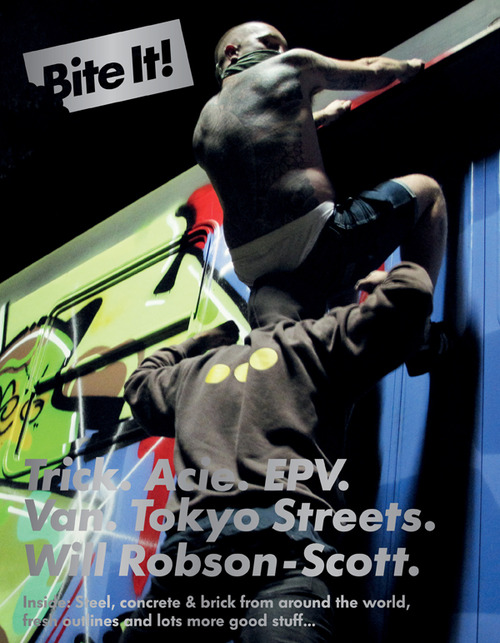 You might have noticed we haven´t been too active here on the blog lately.

This is because we have spend all our time finishing issue two of Bite It! magazine!

Its´ has just gone to print, and things are looking better than ever. Full of dope-ass photo reports, interviews and essays, the new mag hits the streets and a dealer near you by the end of the month. Here's a brief preview to get you started. Stay tuned.
Previews at bite it!.