110min stockholm graffiti

2012 – 2015

OUT VERY SOON!!!!!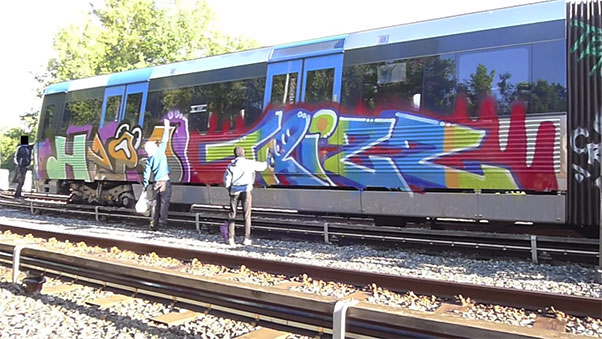 During a visit to Hamburg with TUFF Crew, I went for breakfast with Dyre. We talked about the importance of eating a good breakfast, while he was putting up a few tags with the Pilot Silver Marker.

More from Dyre on Instagram.com/Dyre_Sthlm and DyreSthlm.tumblr.com

Follow @TagsAndThrows on Instagram and visit TagsAndThrows.com for your daily fix of graffiti pics.

Music by Smutskatt.
RELEASE JUNE 5th !!!

INCOGNITO MAGAZINE is celebrating ten years in the making with this 17th edition of the magazine. A thick, luxurious 68-page special edition is on the menu featuring three trendsetting style wizards:

-The legendary Swedish writer Caster, The French king of abstract graffiti Saeio and the North American machine Begr. Also featured is the photographer Edward Nightingale who delivers a fresh photo special.

Else than that, the sections of trains walls and bombings are packed with more heat than ever before featuring the world's best writers such as Horfe, Reko, Abyzz, Tomcat19, Oker, Keno and many more!
This is a edition you don't want to sleep on and we strongly suggest you get your copy now!

http://www.incognitomagazine.com
http://www.spraydaily.com
Supported by: http://ncformula.tumblr.com
Filmat under 2013 – 2014 här och där i Sverige.

Medverkande Konstnärer:
Ruskig, Ångest/Kaos, Erse, Gauge, Lina Eriksson, Tasso, Clean

Idé: Ruskig

Musik: Embee

Regi, Klippning, Postproduktion: Josué Motta (www.motta.se)

Kamera: Josué Motta, Ruskig, Johannes Björklund, Paulina, Göran Ekberg (Adlight)

Stort tack till:
Ikaros, Wallery, Vide, P. Diddly, Pani, Highlights, Framtiden Linköping, Malmö Hangaren CFUK, Kållered och Möndalskommun, Erik och Bodil, Gottsunda Centrum, UA kommun fastighets AB, Ellen Ferngren.