Warning: preg_match(): Compilation failed: invalid range in character class at offset 4 in /customers/e/d/5/kimmatthiesen.dk/httpd.www/graffsite/wp-content/plugins/lightbox-plus/classes/shd.class.php on line 1384 Warning: preg_match(): Compilation failed: invalid range in character class at offset 4 in /customers/e/d/5/kimmatthiesen.dk/httpd.www/graffsite/wp-content/plugins/lightbox-plus/classes/shd.class.php on line 1384 Warning: preg_match(): Compilation failed: invalid range in character class at offset 4 in /customers/e/d/5/kimmatthiesen.dk/httpd.www/graffsite/wp-content/plugins/lightbox-plus/classes/shd.class.php on line 1384 Warning: preg_match(): Compilation failed: invalid range in character class at offset 4 in /customers/e/d/5/kimmatthiesen.dk/httpd.www/graffsite/wp-content/plugins/lightbox-plus/classes/shd.class.php on line 1384 Warning: preg_match(): Compilation failed: invalid range in character class at offset 4 in /customers/e/d/5/kimmatthiesen.dk/httpd.www/graffsite/wp-content/plugins/lightbox-plus/classes/shd.class.php on line 1384 Warning: preg_match(): Compilation failed: invalid range in character class at offset 4 in /customers/e/d/5/kimmatthiesen.dk/httpd.www/graffsite/wp-content/plugins/lightbox-plus/classes/shd.class.php on line 1384 Warning: preg_match(): Compilation failed: invalid range in character class at offset 4 in /customers/e/d/5/kimmatthiesen.dk/httpd.www/graffsite/wp-content/plugins/lightbox-plus/classes/shd.class.php on line 1384 Warning: preg_match(): Compilation failed: invalid range in character class at offset 4 in /customers/e/d/5/kimmatthiesen.dk/httpd.www/graffsite/wp-content/plugins/lightbox-plus/classes/shd.class.php on line 1384 Warning: preg_match(): Compilation failed: invalid range in character class at offset 4 in /customers/e/d/5/kimmatthiesen.dk/httpd.www/graffsite/wp-content/plugins/lightbox-plus/classes/shd.class.php on line 1384 Warning: preg_match(): Compilation failed: invalid range in character class at offset 4 in /customers/e/d/5/kimmatthiesen.dk/httpd.www/graffsite/wp-content/plugins/lightbox-plus/classes/shd.class.php on line 1384 Warning: preg_match(): Compilation failed: invalid range in character class at offset 4 in /customers/e/d/5/kimmatthiesen.dk/httpd.www/graffsite/wp-content/plugins/lightbox-plus/classes/shd.class.php on line 1384 Warning: preg_match(): Compilation failed: invalid range in character class at offset 4 in /customers/e/d/5/kimmatthiesen.dk/httpd.www/graffsite/wp-content/plugins/lightbox-plus/classes/shd.class.php on line 1384 Warning: preg_match(): Compilation failed: invalid range in character class at offset 4 in /customers/e/d/5/kimmatthiesen.dk/httpd.www/graffsite/wp-content/plugins/lightbox-plus/classes/shd.class.php on line 1384 Warning: preg_match(): Compilation failed: invalid range in character class at offset 4 in /customers/e/d/5/kimmatthiesen.dk/httpd.www/graffsite/wp-content/plugins/lightbox-plus/classes/shd.class.php on line 1384 Warning: preg_match(): Compilation failed: invalid range in character class at offset 4 in /customers/e/d/5/kimmatthiesen.dk/httpd.www/graffsite/wp-content/plugins/lightbox-plus/classes/shd.class.php on line 1384 Warning: preg_match(): Compilation failed: invalid range in character class at offset 4 in /customers/e/d/5/kimmatthiesen.dk/httpd.www/graffsite/wp-content/plugins/lightbox-plus/classes/shd.class.php on line 1384 Warning: preg_match(): Compilation failed: invalid range in character class at offset 4 in /customers/e/d/5/kimmatthiesen.dk/httpd.www/graffsite/wp-content/plugins/lightbox-plus/classes/shd.class.php on line 1384 Warning: preg_match(): Compilation failed: invalid range in character class at offset 4 in /customers/e/d/5/kimmatthiesen.dk/httpd.www/graffsite/wp-content/plugins/lightbox-plus/classes/shd.class.php on line 1384 Warning: preg_match(): Compilation failed: invalid range in character class at offset 4 in /customers/e/d/5/kimmatthiesen.dk/httpd.www/graffsite/wp-content/plugins/lightbox-plus/classes/shd.class.php on line 1384 Warning: preg_match(): Compilation failed: invalid range in character class at offset 4 in /customers/e/d/5/kimmatthiesen.dk/httpd.www/graffsite/wp-content/plugins/lightbox-plus/classes/shd.class.php on line 1384 Warning: preg_match(): Compilation failed: invalid range in character class at offset 4 in /customers/e/d/5/kimmatthiesen.dk/httpd.www/graffsite/wp-content/plugins/lightbox-plus/classes/shd.class.php on line 1384 Warning: preg_match_all(): Compilation failed: invalid range in character class at offset 4 in /customers/e/d/5/kimmatthiesen.dk/httpd.www/graffsite/wp-content/plugins/lightbox-plus/classes/shd.class.php on line 700 Warning: Invalid argument supplied for foreach() in /customers/e/d/5/kimmatthiesen.dk/httpd.www/graffsite/wp-content/plugins/lightbox-plus/classes/shd.class.php on line 707 Warning: preg_match_all(): Compilation failed: invalid range in character class at offset 4 in /customers/e/d/5/kimmatthiesen.dk/httpd.www/graffsite/wp-content/plugins/lightbox-plus/classes/shd.class.php on line 700 Warning: Invalid argument supplied for foreach() in /customers/e/d/5/kimmatthiesen.dk/httpd.www/graffsite/wp-content/plugins/lightbox-plus/classes/shd.class.php on line 707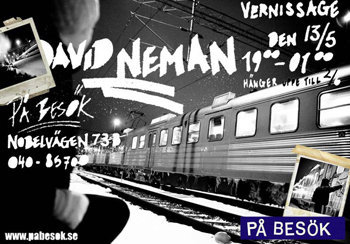 The exhibition is a sample of what is planned to be a bigger project covering the graffiti train scene in Southern Sweden.

The opening takes place on May 13 @ 19.00.
The show lasts from May 13 to June 2, 2010
Location: På Besök
Adress: Nobelvägen 73B , Malmö, Sweden
Info: pabesok.se
davidneman.se
From underground-productions.se
Update: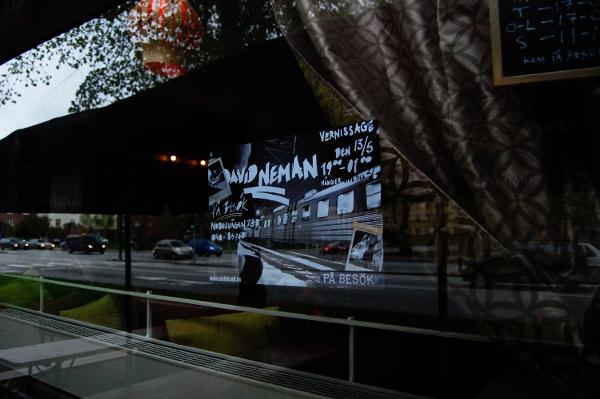 I went by there today, I just thought I would let everyone know what to expect. "På Besök" is a restaurant/cafe deal, now with 15 black and white photos on the walls. If you are in the neighborhood a stop by would be fine, but crossing the bridge with this as "graffiti" destination would probably leave you disappointed.
The photos themselves are fine though! The bigger projects will probably be more interesting.