Fuck blomster og chokolade – mal et piece!
Kaos: Exploration. HAM metro • 6.4.2016→ • tickets 0€

Swedish graffiti artist Kaos paints in HAM Metro gallery, Kamppi, Helsinki. The piece is part of Kaos: Exploration exhibition. Exploration is produced in cooperation by HAM and Make Your Mark Gallery.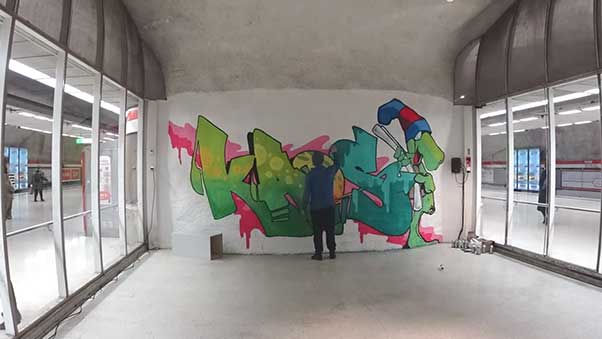 Lika lika som olika
Wall painting at youth center Friberga, Stockholm. Artist: Gouge
Music: The Ghetto (Interlude) – Guilty Simpson
Väggmålning gjord på Friberga gården i Stockholm. Illustration med spray och akryl.
Timelapse from July 2014.
Painted at Snösätragränd outside Stockholm.
Music: Proleter – April Showers.
yashone.se
instagram.com/linuslundin
Så er videoen her fra årets graffiti getdown!Tak til alle der kom forbi til årets hiphopbrag, både malere, kunstnere og folk der bare kom for at hænge. Det var en lækker dag!Musik af:NATKAT – Funken er tilbagehttps://www.youtube.com/watch?v=yp_fnWf4dRsMøj Bøjet Crew – Bevis Dethttps://www.youtube.com/watch?v=ya2mxeqCSY8Tusind tak til Patrick Overgaard for at hjælpe med filmen.

Posted by Peberman on Tuesday, July 21, 2015
Så er videoen her fra årets graffiti getdown!