Update:
The release event is tomorrow at Le-fix.
Well if you are in Copenhagen – you should swing by // Le-fix + shop / Kronprinsensgade 9B -backyard / Friday 13. May – from 17-19 – for a cold beer (thanks to VERY and Guld Tuborg) and to pick up a piece of copenhagen graffiti history // "On the runs" newest realease about the MOA crew. / at the event day you could be lucky to get a signed book-edition. – so see you Friday 🙂
Common ground gallery posted a few photos from the release event in Berlin here.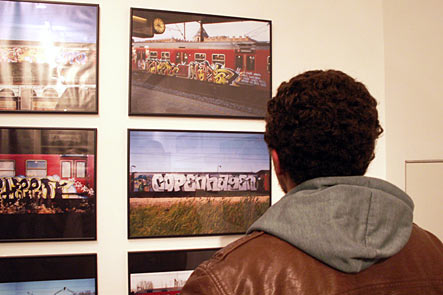 But if you can't wait the paragraffen shop in Vestergade has the book today. Runforcover, Highlights and dokument has it online as well.
Paragraffenshop.dk mangler billeder,men har nu den nye On The Run bog, denne gang dobbelt så mange sider, Moa VS Stål og mere Stål, , hard cover, super vild bog, og som altid bliver vi bedst med prisen på web shoppen… så snart den gode grafiker har klippet billederne 🙂 er ankommet i butikken i Vestergade !!!
The Copenhagen release of the From here to fame MOA book will be at Le-fix on Friday the 13th of May.
Monsters of Art Events Schedule
13. Mai 2011 – Copenhagen
Book Release & Exhibition
Le-Fix Shops / Kronprinsensgade
Europe's most notorious train crew, Monsters Of Art, celebrates 20 years of train havoc. It is with great pleasure that we honor their anniversary with a monster edition of ON THE RUN. Join us for a rare and privileged glimpse into the unruly world of MOAS. With over 200 pages that detail MOAS's history and unique crew concept, along with classic tales from the train yard, including great escapes, writer beef, legendary busts, extreme graffiti feats, trains, trains and more trains. This is a must-have for all diehard fans of train graffiti.

MOAS blasted onto the Copenhagen scene in 1991. Once they had Denmark locked down, MOAS expanded through a series of high profile, international affiliations to become omnipresent in Denmark, Europe and now the world. Their infamous working methods have become the standard for those daring to compete. Many have attempted, but most fail. For those willing to try, be warned, they are ruthless inside and outside the yard, so proceed with caution.

MOAS—20 years on the run and still going strong. Don't listen to the rumors; get the story direct from the source.
Book Release 29. April 2011!

Title: Monsters of Art
Series: On The Run Books
Author: Amber Grünhäuser
Pages: 224 full color
Photographs: ca. 550 photographs & illustrations
Format: 23,5 x 16cm (9.25 x 6.3 inches)
Language: English edition

ISBN Paperback: 978-3-937946-68-9
Price Paperback: 14.95 € | 14.99 £ | US $ 19.95

Limited collector's edition:
ISBN Hardcover: 978-3-937946-69-6
Silver Embossed Hardcover with Jacket & Stitch Binding
Price Hardcover: 19.95 € | 19.99 £ | US $ 24.95
Market: Street Art & Graffiti Culture, Subway Graffiti, Art, Youth Culture and Photo-Documentary.
From fromheretofame.com.