RELEASE JUNE 5th !!!

INCOGNITO MAGAZINE is celebrating ten years in the making with this 17th edition of the magazine. A thick, luxurious 68-page special edition is on the menu featuring three trendsetting style wizards:

-The legendary Swedish writer Caster, The French king of abstract graffiti Saeio and the North American machine Begr. Also featured is the photographer Edward Nightingale who delivers a fresh photo special.

Else than that, the sections of trains walls and bombings are packed with more heat than ever before featuring the world's best writers such as Horfe, Reko, Abyzz, Tomcat19, Oker, Keno and many more!
This is a edition you don't want to sleep on and we strongly suggest you get your copy now!

http://www.incognitomagazine.com
http://www.spraydaily.com
Supported by: http://ncformula.tumblr.com
BBB Issue 13
We are very pleased to announce an unbelievably stacked line-up for issue lucky number 13. With artists and features from all corners of the world, such as graffiti BATES, NYCHOS, BUFF MONSTER, BIAS & fine-artists Vladimir Kraynyk and Simon Birch, a feature on Malaysian street-art by Beth Zener & a recap of Montreal's Mural Festival by Naz Goshtasbpour. With a line-up like this it should come as no shock this issue is second to none.
Subject:
4608 magazine release
Issue:
4608:1
Release date:
June 18th, 19:00
Location:
Beijing8, Hornstull
Interrogated vandals:
Xhor, CRS POLO
Skel, WOL 3D
Aigor, K5U CLW
Focus:
Trains
instagram.com/4608vandalism
4608.se
Thanks to Ollie Nordh for extra footage.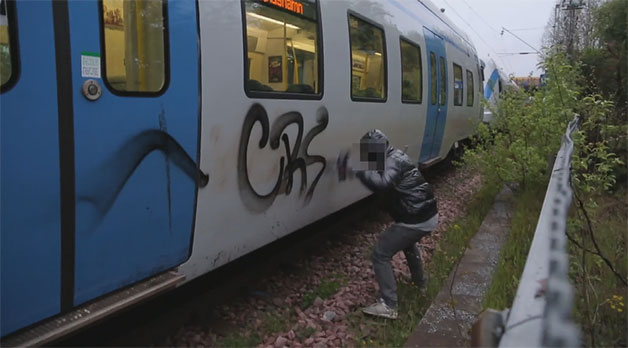 June 13 – June 14
Jun 13 at 6:00pm to Jun 14 at 8:00pm
Slussen
Stockholm, Sweden

Release party in Stockholm for our latest publication "TOMCAT – Home is where I take my shoes off", a 32 pages zine with photos by Tomcat from 2008-2014. Bring your bike, beers and buddies to Slussen this Friday!

The zine is printed in a limited edition of 300 copies and each zine comes with an A2 poster designed by Tomcat. Available exclusively through www.spraydaily.com, world wide flat rate shipping.

His styles are simple, simple but everywhere. His name is well known around the world but he still may be one of the most anonymous and mysterious writers. If you ever been biking around the streets of Copenhagen you know what we are talking about. His tags, throw-ups and roll-ups covers the city from top to bottom. You will find his name on trucks, walls, street signs, roof tops but also on the trains and along the track sides.
From facebook.
We have uploaded 15 photos from the event last friday.