Update #2: Here is 8 of Leon and Marvel's photos taken from sverigesradio.se.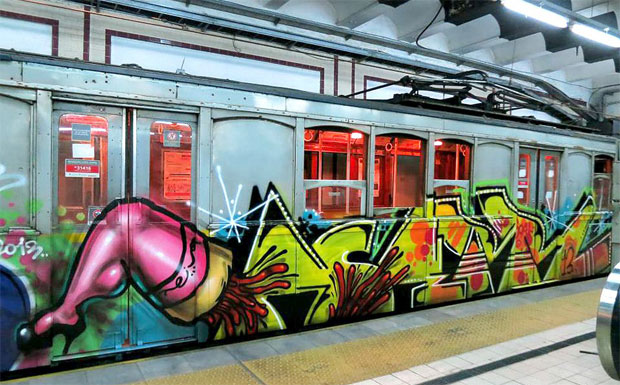 Press play to listen to a radio show about Leon and Marvel's travels in Argentina. (in Swedish)


Update: switched to a source without music.
De kallar det för ett livsfarligt paradis. Möt graffitimålarna som lämnade Sverige för att måla tåg i Buenos Aires. Det är olagligt även där, ändå är över två tredjedelar av alla tåg helt övermålade. Verkligheten tar dig till underjorden i Buenos Aires och graffititurismen.

I Sverige har man sedan länge bedrivit en så kallad nolltoleranspolitik mot grafitti på offentliga platser. Det klassas som skadegörelse som kan ge alltifrån böter till ett års fängelse, om det är grovt upp till fyra år.

I Buenos Aires i Argentina är det också olagligt, men på grund av en dispyt mellan den argentinska presidenten och Buenos Aires borgmästare fick tunnelbanan under en längre period mindre pengar till underhåll som städning och bevakning.

Därför är mer än två tredjedelar av alla tunnelbanetåg helt övermålade med grafitti. Och det är därför de två svenska graffitimålarna Leon och Marvel är här i vad de kallar för ett livsfarligt paradis. De har hittat något som liknar deras dröm om 80-talets New York.
Video from Nothing But Skåne. Radio from sverigesradio.se. Photo from goodfellasmagazine.com.