Gå på opdagelse i Aalborg og oplev den spændende nye Street Art – den næste store oplevelse kan vente lige om hjørnet.

Se mere på http://www.visitaalborg.dk/streetart
Artists:

ENIAS, PRINS, EXTRA, IMKEN, KATS, DUNE, BREM, MISE7, A.WITTING, DATO, APPEAR37.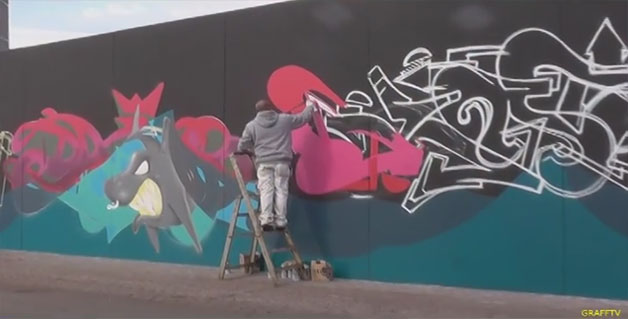 via facebook

Fat Cap#19 will be in stores at the end of October 2013.
Is this the final issue of Fat Cap?

Fat Cap magazine is proud to present the second issue (96 pages) of 2013. It's been way over ten years since the last time we dropped two issues in one year. We hope you enjoyed the tracksides issue we dropped in May. In issue #19 we take it back to a mix with all kind of walls from the cities and artists we have followed and supported since 1989, plus some fresh new faces that is breaking new ground in the culture. In 2014 we drop the Fat Cap book, as an anniversary issue #20. We hope you'll enjoy it!

FATCAP #19 Featuring:

-Scandinavia; Denmark,Sweden & Norway
(Bates, Great, Side, Soten, Tiws, Jem, Side, Sabe, Puppet, Zappo, Skil, Kaos, Kazy, Ridder, Raes, Meter, Achoe, Goal, Woble, Kid, Loze, Poker, Duck, Jame and more…)
-Atome TFP interview
-Sofles DTS TMD
-Pay2 COD
-Sgee VIMOALL
-Eksm OSV
-Stay KD Travel report
-New York (Wane, Wen, T-Kid, Part1, Chino, Ces, Yes2, Vins, Bio, Cope2 and more…)
-Slaughterhouse interview
-BraskArt visits Dero TFA's studio

Get Fat cap at:

konturforlag.no
dokument.org
stylefile.com

FOR DISTRIBUTION CONTACT:
martin@konturforlag.no

FAT CAP Since 1989