Shepard Fairey piece at Jagtvej 69, Copenhagen, Denmark

So Shepard Fairey is in Copenhagen these days for his show which opens on friday at V1 Gallery in the meatpacking district. In the meantime he has some time to do some murals in the city of Copenhagen which I personally really digg! While going to paint my own wall yesterday I saw Shepard biking around Vesterbro looking at walls. Later on tweets and pics came ticking in about Shepard painting the big wall surrounding the vacant slot at Jagtvej 69 where the Youth House used to be. The outdoor project is a collaboration between Shepard, the municipality of Copenhagen and V1 Gallery. The municipality has invested 250.000kr and should the overall expenses exceed that amount Shepard has assured that he himself will pay the rest. The rumor has it he will be painting on Østerbro today otherwise I'll see you all on friday at the show where Shepard will be dj'ing at the afterparty.
By glans galore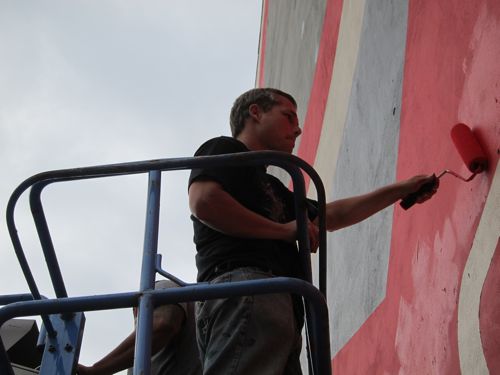 Braskart has more photos here and here. As well as a sneak peek from Shepard Fairey's exhibit at V1 gallery here and here.
Update: from ibyen.dk.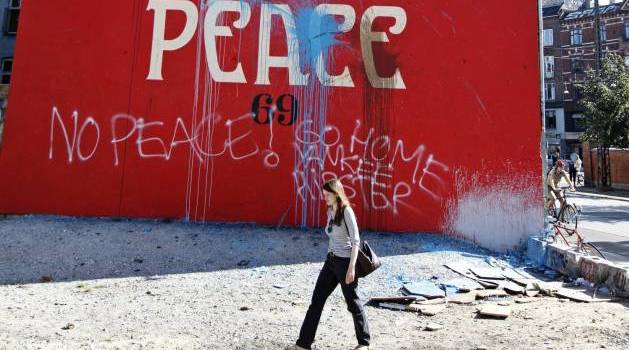 Update 2 from tv2lorry.dk:


Gavlmaleri på Jagtvej 69 .

Efter at et gavl-maleri på jagtvej 69 er blevet overmalet flere gange, bliver det nu ungdomshusets sympatisørere, der får det sidste ord.
Gavlmaleri på Jagtvej 69 males færdigt