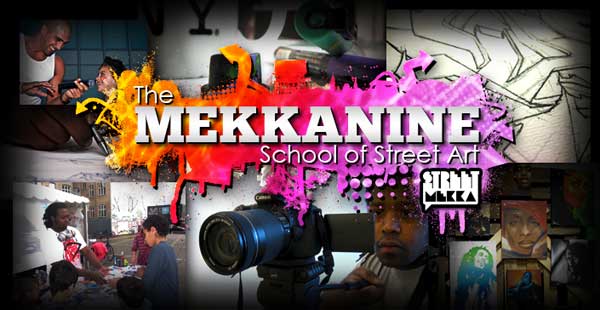 The Mekkanine School of Street Art at StreetMekka offers comprehensive 10 week courses in 5 subject areas of street art and culture. Each course is designed to provide students with vital tools and training that can be used in their own creations and expressions. The overall program geared toward enabling students to create a final product of their own choosing in any medium they wish to explore. Opportunities for students to exhibit their work will be offered throughout the year.
Letter Science:
Graffiti art is one of the 4 elements of hip hop, and is a pillar of street culture. Attempted by many but mastered by few, graffiti requires discipline, training, and hours of hard work to perfect. In 10 weeks, Letter Science will bring newcomers from writing their first tag all the way to designing creating full blown graffiti productions. Emphasis is placed on diligent work in the Blackbook, an essential tool for any graffiti writer. Students in this course will learn a variety of letter styles and techniques for creating well executed graffiti pieces. Recommended for ages 15 and over.

Letter Science is all about graffiti. Based tightly on blackbook work, students will be exposed to the full gamut of letter styles, and learn every facet of writing graffiti, from handstyles to full productions. Toys are not only welcomed, but encouraged to take this course to develop their skills.
From Streetmekka and Juse one.